Memphis Auto Auction offers a variety of services to help our buyers and sellers increase their profits include pre-sale certifications, a full scale reconditioning program, transportation, post sale inspections, and Dealer Connect.

MAA firmly believes that every day is sale day and our endless search led us to the development of Dealer Connect. 
Dealer Connect is your source for the oh-so-coveted inventory of buyers. Dealer Connect's extensive reach into the online marketplace includes such platforms as SmartAuction, OVE, OpenLane and Auction Pipeline. We can come to you for your aged inventory while you keep it for retail, we can post wholesale inventory pre-live auction, or we can post unsold units between live sales. The choice is yours!
Our trained inspectors will complete a professional condition report, perform a market analysis to determine theappropriate online marketplace (or a combination of) and provide you with simultaneous wholesale and retail opportunities. With over 8,000 units sold in the Online Marketplace in 2010 through 2011 and winner ofSmartAuction's Midstream Auction of the Year, our online success rate speaks for itself.

Buy with CONFIDENCE!  Get your new purchase certified with a Memphis Auto Auction Post Sale Inspection!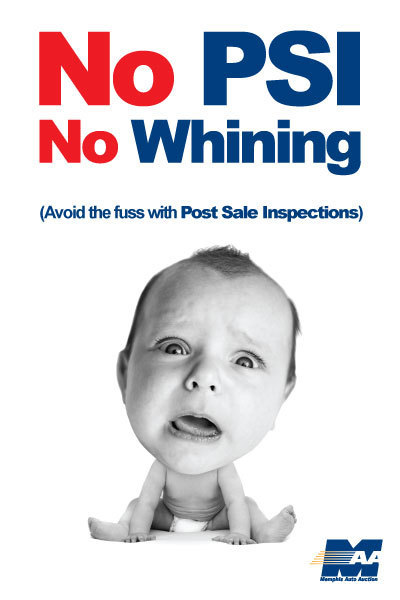 Discover these arbitratable items with a Post Sale Inspection!
•

 

Engine

•

 

Axle/Transmission

•

 

Transmission

•

 

A/C

•

 

Frame/Unibody

•

 

4×4

•

 

CV Joints

•

 

Warning Light

•

 

Driveability

•

 

Paintwork

•

 

Mechanical

•

 

Odometer
Pricing

7 Day Guarantee

Frame Only Inspection

$50.00

Mechanical Inspection

$50.00

Full – $15,000 & Under

$85.00

Full – $15,001 – $39,999

$105.00

14 Day Guarantee

Frame Only Inspection

$75.00

Mechanical Inspection

$75.00

Full – $15,000 & Under

$150.00

Full – $15,001 – $39,999

$170.00
Vehicle is guaranteed on arbitratable items for 7 or 14 days from the date of sale (sale date is day 1). If an arbitratable item or part that was inspected fails during that period, the item will be replaced or repaired, or vehicle will be bought back at the discretion of Memphis Auto Auction.

PSI Inspection Options

Frame Inspection

Mechanical Inspection

Full PSI Inspection – Frame & Mechanical

PSI Guarantee

7 or 14 day options

If an inspected arbitratable item fails during that period, the item will be replaced or repaired, or vehicle will be bought back at the discretion of Memphis Auto Auction.

PSI guarantee is not a buy-back policy but a guarantee of the operation & function of the arbitratable items inspected.

PSI is not an extension of the Memphis Auto Auction Arbitration Policy

PSI Inspection Checklist – this checklist applies to defects that are singularly $500 or more to repair or replace

Odometer verification

Transmission engages & functions

Engine function & operation

4×4 system

ABS/Brakes function

Paintwork inspected

Flood inspection

Electrical accessories checked for function

Emission control equipment present

Air conditioning system compressor engagement check

Supplemental restraint system/airbags check

Frame or unibody structure checked for damage; underbody check for corrosion, accident damage, repairs, altered suspension

CV Joints: boot condition, rips/tears

Power Steering: fluid condition, leaks

Rear Axle/Transaxle: fluid condition, leaks

Warning Lights "On" (CEL, Airbag, ABS)

Road Test: engine performance, trans performance, noise or vibration, overall condition

Green light vehicles that run at the Memphis Auto Auction facility or channel (including any online channel) are eligible for a PSI. White light vehicles are only eligible for the following arbitratable items: bottom end of engine, rear end, transmission, frame and 4×4 (if applicable). Yellow light vehicles are eligible for a PSI excluding cautionary items. Red light vehicles are only eligible for a frame check if structural damage is unannounced.

PSI Terms & Conditions

Buyer is responsible for the PSI fee regardless of outcome (pass or fail).

Vehicle condition at time of return must be the same or better as when was purchased.

Vehicles must have 300 miles or less accumulated on the odometer between the time of inspection & the challenge date.

PSI available for purchase on day of sale only.

Post inspection claims will be processed in the same manner as arbitrations. Memphis Auto Auction reserves the right to inspect the unit(s) & has the sole discretion to repair or replace the failed component, or to initiate a buy back.

Transportation is non-refundable.

The following vehicles are not eligible for PSI:

Units deemed as Exotic vehicles by auction (including but not limited to Aston Martin, Bentley, Dodge Viper, Ferrari, Lamborghini, Lotus, Maserati, H1 Hummer & Rolls Royce)

Kit Vehicles

Trailers

Motorcycles

Watercraft

Recreational Vehicles

Antiques (20 years or older)

Homemade Vehicles

Modified Vehicles

Vehicles with a sale price of $40,000 or more are ineligible for the PSI Guarantee
* Please Note: A Post Sale Inspection may still be performed, but will not include a guarantee
M
ake your cars sparkle with our reconditioning services
.
| | |
| --- | --- |
| Line Wash | $10.00 |
| Wash & Vac | $35.00 |
| Full Detail | $85.00 |
NEED HELP TRANSPORTING YOUR CARS?
It doesn't matter if you need in-town delivery, towing, out-of-town delivery or rollback service, our full service transportation department will have a service that will meet your needs.  Our rates are very competitive. 
Let us know how we can meet your transportation needs. 

Let the Body Shop at Memphis Auto Auction get your units ready for sale.
Paintwork (touch-up and custom)
Glass Repair/Replacement
Interior Repair/Replacement
Paintless Dent Repair (PDR)
Body Work
Pin Striping
Bumper Repair
Insurance Work
Billing Options Available
Call us for your FREE ESTIMATE!
The Memphis Auto Auction Mechanic Shop offers a variety of services to help you get the most money for your vehicles at auction or on your retail lot.
General Vehicle Diagnostics/Repair

Engine Diagnostic/Repair

Drive Train Repair
Pre-Sale Certifications
Post-Sale Inspections